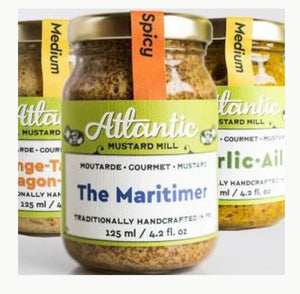 Award Winning Gourmet Mustard made in small batches from Murray Harbour North, Prince Edward Island. 
Founded in 2017, many ingredients are locally grown and the company's goal is to be as green as possible with the homestead being run entirely on energy produced by their solar energy system with the end goal being to leave the smallest foot print and to preserve the planet.
Old German Mustard - Medium in Heat. Light in Cinnamon & Cardamon, made using old world recipes. Perfect on sausages, pork, chicken or sandwiches.
Maple Chili Mustard - Hot with a sweet balance. Made with local organic maple syrup and pairs perfect with salmon, cheese, sausages, and any meat.
The Maritimer Mustard - Very Spicy. Pure mustard taste. #1 Seller
East Coast Hot Dog Mustard - Medium in spice. A combination of homemade pickles with organic mustard seeds, brine & vinegar to create the perfect hot dog mustard.. Great on hot dogs, in salad dressings or on a grilled chicken breast. 
Black Garlic Mustard - A luxurious mustard for the connoisseur. Perfect on a cheese charcuterie board, sandwich or anything you love to put mustard on!
The MustArt Collection - A set of 3 prepared Gourmet Mustards.  We love mustard, we love art and we love the Maritimes. The box contains three mustards and each mustard features a landmark of the maritime province painted by a wonderful artist of that province. (Spicy Mustard, Dijon Mustard & Maple Mustard)